The new 'Ms Shah' did our class so proud!! What a wonderful future Headteacher we have in the making!
BREAKING NEWS... BREAKING NEWS... BREAKING NEWS...
School Council, Rights Respecting and ECO
Today we have announced our members of the School Council, Rights Respecting and ECO groups.
School Council - Lily Lou and Aaliyah
Rights Respecting - Awaal and Vera
Eco - Archie, Rukiya and Mariam
Article 12. You have the right to give your opinion, and for adults to listen and take it seriously.
Parliament Week
So the votes are in and we have our new Head and Deputy Head. We also have our new School Business Manager and Office Admin Assistant...
Headteacher - Vera
Deputy Headteacher - Daniel
School Business Manager - Macie
Office Admin Assistant - Seyifumni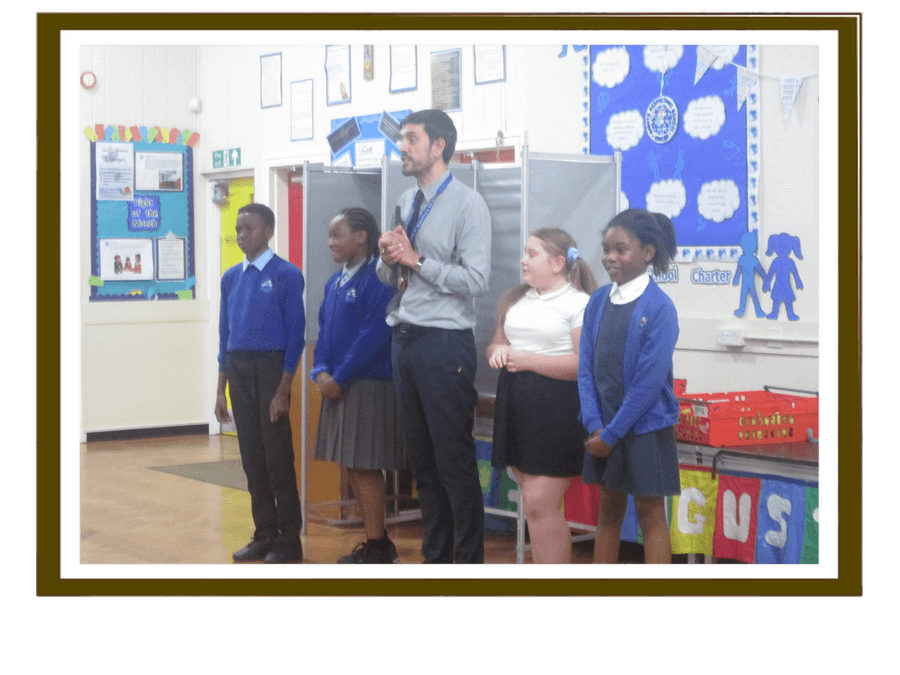 Parliament Week 9.9.19 - 13.9.19
This week in school, children are learning all about what Parliament means and the meaning of political parties.
Children have been enjoying learning the history of British politics and the struggles our ancestors endured so that both men and women can vote.
In school, we have held our own elections. Children throughout the school have voted for a Year 6 child to represent them as the new Ms Shah and Mr Gibaut for take over day on Friday.
A selection of Year 6 children stood for these two positions and created a speech to talk to all the children in school about (very scary!), and gave reasons why to vote for them.
Children also voted for their School Business Manager and Office Admin Assistant and two of the children will spend the day helping out in the office!
Children voting at the polling stations....
10.09.19
Creative club
Today was the first after school creative club, we had an absolutely brilliant time!
We did some singing and little bit of expressive dance to 'The Lion King' Soundtrack.
Then we all sat together and did some painting and drawing. It was wonderful!!
9.09.19
Today we did something a little bit different during our Maths lesson. We asked the question..

"Is there a million Millions in a jar of Millions?"


What do you think we found out???
There are 20,685 Millions in a jar of Millions!!!
P.S - Yes we did count every single one!!
4.9.2019 Hello everybody, and welcome back to school. We are looking forward to a positive and exciting year in year 6.
We have so many things to look forward to this year and we cant wait to share our adventures with you...
WATCH THIS SPACE
Have a look at our Autumn Term Newsletter below...
NEWS FLASH!!!!!!
5.9.2019
This term, a very special, 'Creative Club' has been organised by Miss Gwynne. This is a fantastic opportunity for children to express themselves. They can paint, draw, write poetry, short stories even write song lyrics. This is their space to explore themselves and find a way to express their inner selves.
Please find the permission letter below if your child wishes to attend this club.
6.9.19 AFRICAN DRUMMING
So today, year 6 got back into the swing of their African Drumming, they enjoyed a lovely session this morning, recapping some of their rhythms!!
Miss Cookson and Miss Gwynne were very proud of what the children could remember and the enthusiasm the children showed!