Autumn Term
Children in Need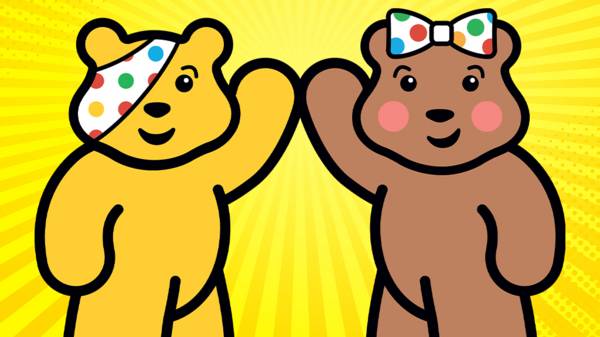 To support children in need, we were allowed to dress up and come in our own clothes to raise money.
Below are just a few of the fantastic clothes the children wore.
Hopefully we will have raised lots of money to send to children in need.
Friendship Week
This week is Friendship Week in school. The theme this year is
The week is about hope and the positive and kind things we can all do to stop hurtful behaviour.
We will be doing lots of different activities throughout the week.
Tuesday 16th November
Today year 2 took part in a workshop called a 'Play in a Day'.
The play in a day was all about being safe online.
The children got to work with Emily from a theatre company who helped them learn the play in just one day and perform it to the rest of the school.
Article 24: Children have a right to a safe environment to live in. All adults and children should have information about how to stay safe.
Year 2 did a fantastic play with a great message about being safe on the internet.
Article 31. Every child has the right to relax, play and take part in a wide range of activities.
Wednesday 17th November
Today we thought about what makes a good friend.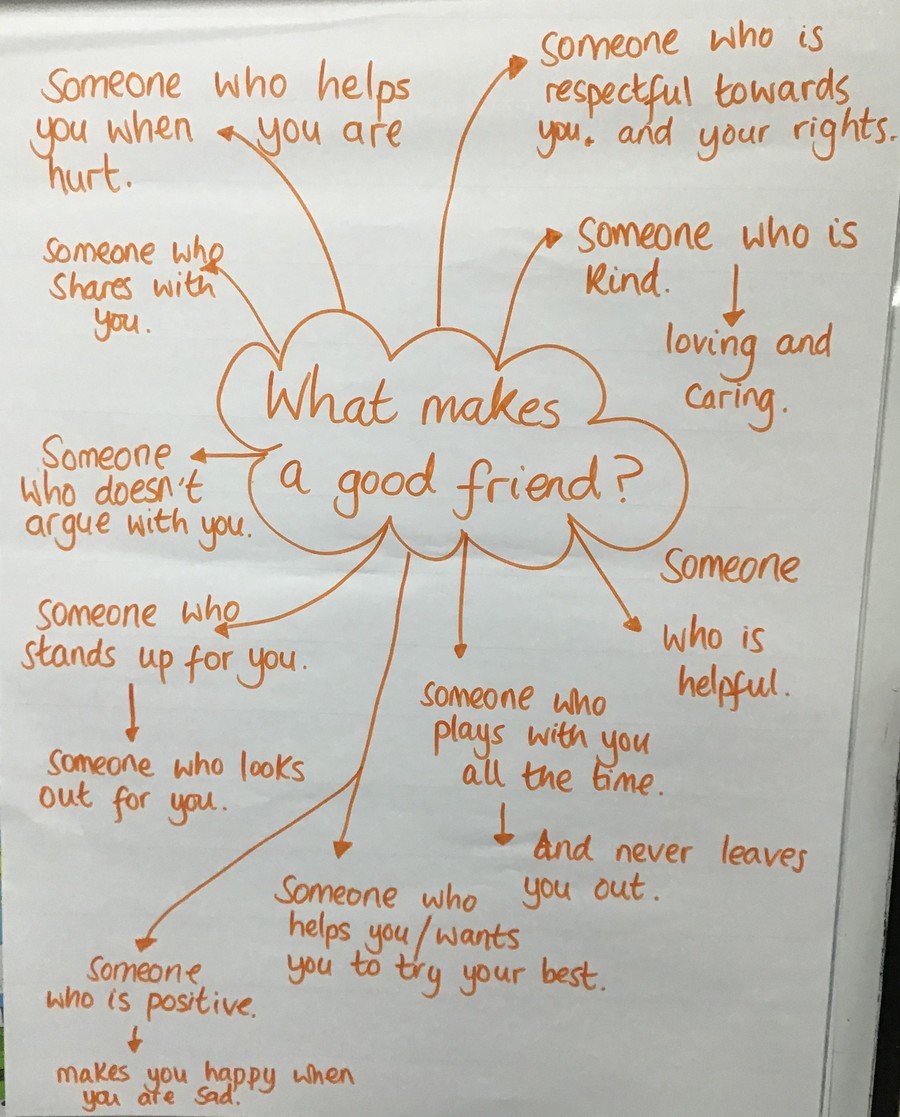 Thursday 18th November
We did a great activity today, where we created a friendship thread. Each child had a turn at holding a piece of the thread and saying something nice to another child in class. The thread was then passed to that child. We continued until all the children were holding a part of the threat. When we had finished it looked like we had created a web.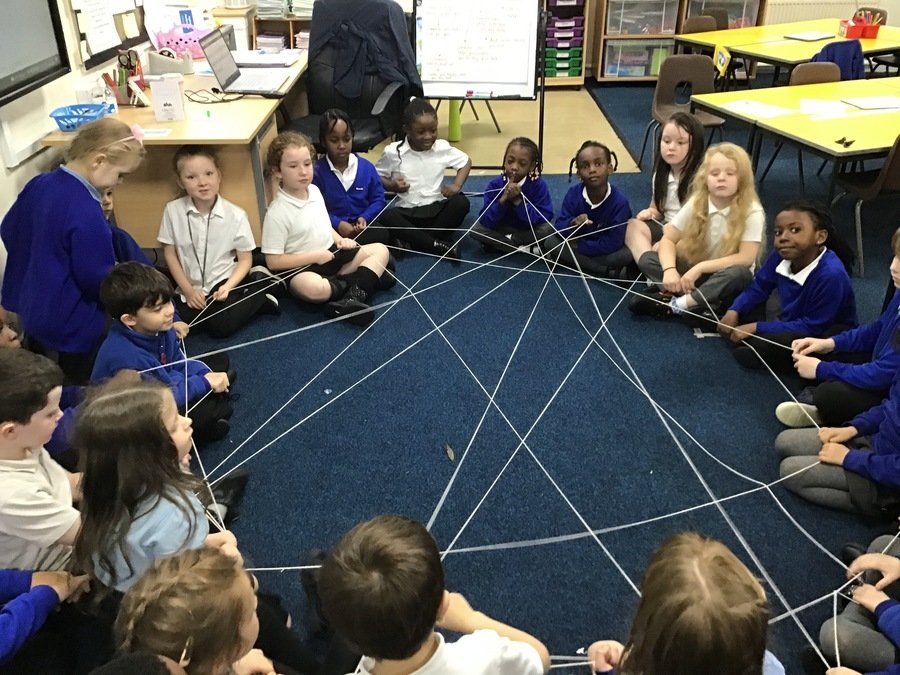 Friday 19th November
To end our Friendship week activities we all made some rainbow clouds. We put our name into the cloud and attached coloured strips. Our friends had to write kind words to describe us. They all looked beautiful and unique.
Today was also
'Odd Socks Day'
Odd Socks Day is about understanding that everyone is different and everyone is EQUAL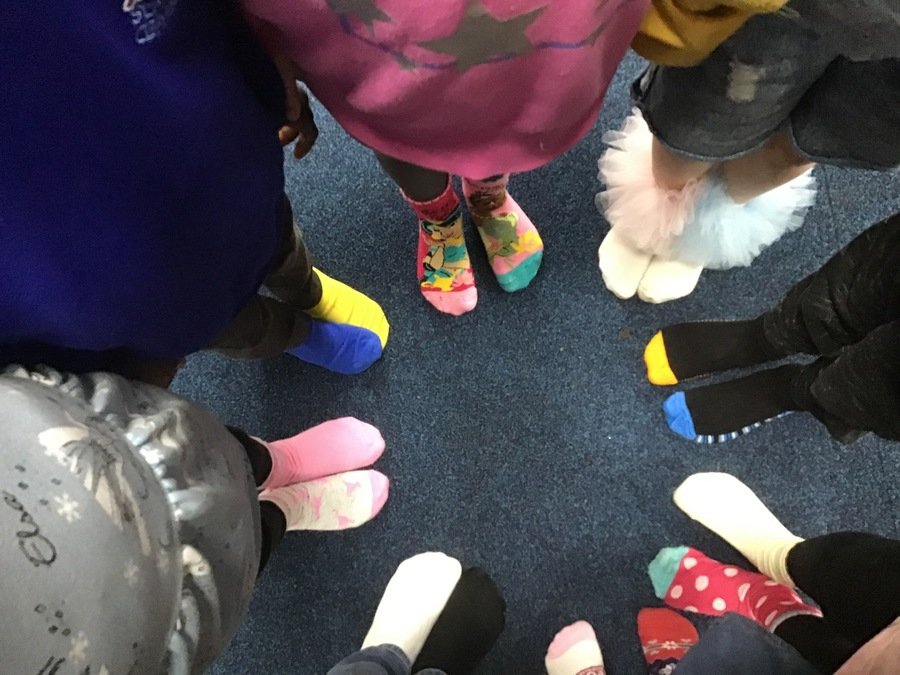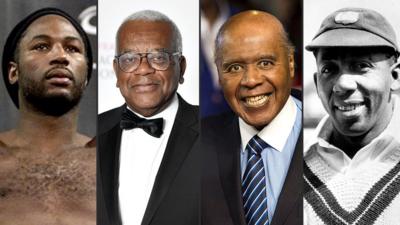 This year for Black History Month year 2 have been looking at Dame Floella Benjamin.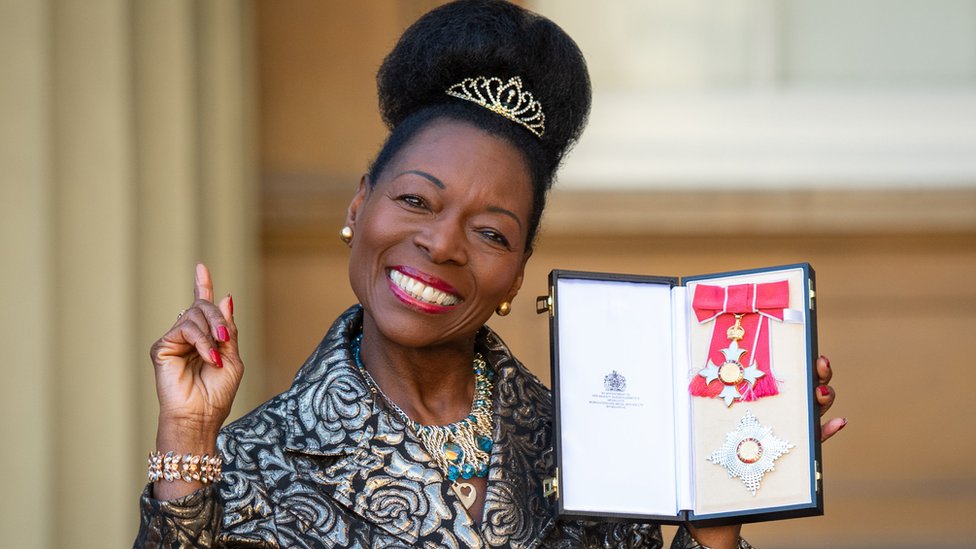 Floella is a well known actress, writer, singer and politician.
We looked at one of the books she wrote about her journey to England when she was just 10 years old.
Year two were shocked to discover that Floella travelled on a ship with her 2 brothers and sister for 15 days without an adult accompanying them. We thought about how she must have been feeling during the journey and how it was when she arrived in England.
Unfortunately, when Floella and her siblings arrived it England they were treated differently because of the colour of their skin.
As a child Floella dreamed of meeting the Queen and because of her hard work and perseverance she got made a Dame by the Queen in 2020 and met her at Buckingham Palace!
Article 2 (non-discrimination) The Convention applies to every child without discrimination, whatever their ethnicity, gender, religion, language, abilities or any other status, whatever they think or say, whatever their family background.
We did some role play on how Floella was feeling on the boat and how she felt when she arrived in England and got to see her mother waiting for her and her siblings. We presented what we found out in assembly on Friday and found out what other classes had been learning.
If you would like to hear the story we read click on the link below:
Take Over Day!
Today was Take Over Day in school.
Some of the Year 6 children became the Headteacher, Deputy Head and Business Manager.
Some of the children in Year 2 took on the jobs of Mrs Nuttall and Mrs Plaiter.
They took the children into celebration assembly, helped with the lunch menu, read stories to the other children and even taught handwriting and art lessons.
We all had a really good day.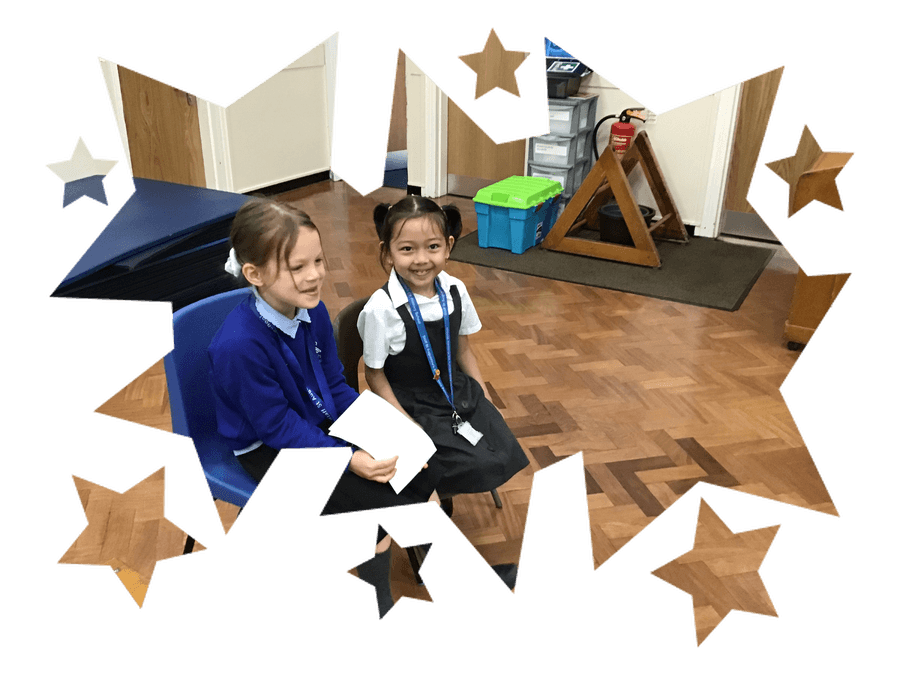 Article 29 Your education should help you use and develop your talents and abilities.
Article 13 Children have the right to share freely with others what they learn, think and feel by talking, drawing, writing or in any other way.
The children produced some fantastic under the sea artwork.
This week all the classes have been voting for their class representatives.
.
Results Are In!
We have counted all the votes and the results are in:
Year 2's representatives are as follows:
School Council
Summer & Lexie
Rights Respecting Steering Group
Mya & Divine
Eco Group
Laila & Damilola
Article 29 Your education should help you use and develop your talents and abilities.
Article 12 Every child has the right to have their voice heard.
Welcome back!
We hope you all had a lovely summer and are ready to join the year 2 team.
We have lots of great things planned for this term and are looking forward to some new challenges.
It has been lovely to see all the children in their uniforms looking so smart.
This year all the children have been provided with a P.E kit that will be kept in school and sent home when it
needs washing.
We ask that on P.E days the children bring some training shoes that are suitable for running
around in the outdoor P.E lessons.
Below is our class newsletter where you will find out about some things the year 2 children will be learning this term.
This week all the classes in school have been writing their own class prayer.