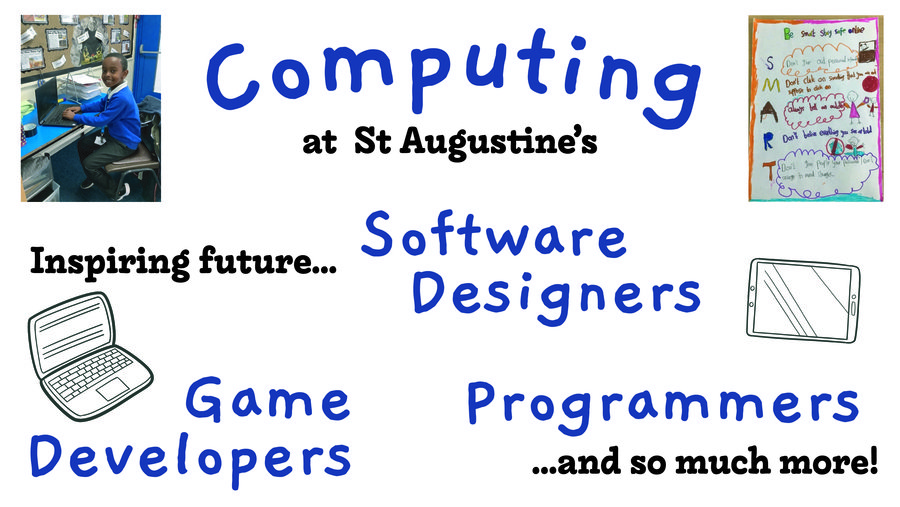 Our Vision (Intent)
Our vision at St Augustine's is to prepare the children for life in an ever-changing technological world. Computing is a vital part of everyday life and will play a huge part in our children's future. We will do this by ensuring that our children and staff are confident and competent users of technology and are able to experiment in a safe, fun yet challenging environment.

Our Computing curriculum is based on the National Curriculum. We strongly believe that all children should develop the knowledge, skills and understanding to access and effectively use a range of technologies for different purposes. E-Safety is an integral part of our curriculum. Our children will be taught how to stay safe when they are online, to know how and where to get help should they need to and to use technology responsibly, being mindful of how their behaviour can affect others.

Our children will be taught Computing in a way that ensures progression of skills and follows a sequence to build on previous learning. This will enhance their learning opportunities, enabling them to use technology across a range of subjects to be creative and solve problems.
Implementation
Our computing curriculum is taught from EYFS to Year 6. The skills that the children learn are built upon year on year until the end of KS2. The children are taught computing discreetly during computing sessions which occur fortnightly. We use the Kapow Computing Scheme of Work, which allows the children to achieve each objective in the National Curriculum. In the National Curriculum, Computing is divided up into three strands:
Computer Science

Information Technology

Digital Literacy
We teach these three strands across five key curriculum areas:
Computing systems and networks

Programming

Creating media

Data handling

Online safety
These curriculum areas are spread out over the year and give the children access to a wide variety of programs, apps and technology. In Years 1, 4, 5 and 6, children also complete a 'Skills showcase' unit. These units give children the chance to combine and apply skills and knowledge gained, from a range of the five key areas above, to produce a specific outcome.
Online safety is taught throughout the year in every year group. As a school we are very aware of the responsibility that we have to educate our children about staying safe online. Outside of Computing lessons, online safety is also taught through our assemblies, integrated within our PSHE sessions throughout the school and is a vital part of our annual 'Staying Safe Week'.
The National Curriculum (2014) states:
"The use of information and communication technology is an integral part of the national curriculum and is a key skill for everyday life. A high-quality computing education equips pupils to use computational thinking and creativity to understand and change the world. Computing has deep links with mathematics, science, and design and technology, and provides insights into both natural and artificial systems. The core of computing is computer science, in which pupils are taught the principles of information and computation, how digital systems work, and how to put this knowledge to use through programming.
Building on this knowledge and understanding, pupils are equipped to use information technology to create programs, systems and a range of content. Computing also ensures that pupils become digitally literate – able to use, and express themselves and develop their ideas through, information and communication technology – at a level suitable for the future workplace and as active participants in a digital world."
What's been going on in Computing across school this term?