Maths
At St Augustine's CE Primary School, mathematics is taught discretely in a daily lesson as well as forming part of a lesson in other subject areas. We aim to provide a mathematical curriculum that contributes to the acquisition of life-long skills and promotes enjoyment and enthusiasm for learning through practical activity, exploration and discussion.
We believe that Mathematics at St Augustine's Primary should be creative and engaging. It should be presented through a context which is meaningful and stimulating for all children at their own level. Children should be confidently able to apply their skills and knowledge to imaginatively solve problems. Lessons include whole class, group, paired and individual work. Problem solving and reasoning are an important part of every lesson. Learning through a clear progression of mental and written methods, children develop understanding and the skills to carry out calculations independently.
Mathematics is a creative and highly interconnected discipline that has been developed over centuries, providing the solution to some of history's most intriguing problems. It is essential to everyday life, critical to science, technology and engineering, and necessary for financial literacy and most forms of employment. A high-quality mathematics education therefore provides a foundation for understanding the world, the ability to reason mathematically, an appreciation of the beauty and power of mathematics, and a sense of enjoyment and curiosity about the subject.
Aims
The national curriculum for mathematics aims to ensure that all pupils:
become fluent in the fundamentals of mathematics, including through varied and frequent practice with increasingly complex problems over time, so that pupils develop conceptual understanding and the ability to recall and apply knowledge rapidly and accurately

reason mathematically by following a line of enquiry, conjecturing relationships and generalisations, and developing an argument, justification or proof using mathematical language

can solve problems by applying their mathematics to a variety of routine and non-routine problems with increasing sophistication, including breaking down problems into a series of simpler steps and persevering in seeking solutions
Mathematics is an interconnected subject in which pupils need to be able to move fluently between representations of mathematical ideas. The programmes of study are, by necessity, organised into apparently distinct domains, but pupils should make rich connections across mathematical ideas to develop fluency, mathematical reasoning and competence in solving increasingly sophisticated problems. They should also apply their mathematical knowledge to science and other subjects.
The expectation is that the majority of pupils will move through the programmes of study at broadly the same pace. However, decisions about when to progress should always be based on the security of pupils' understanding and their readiness to progress to the next stage. Pupils who grasp concepts rapidly should be challenged through being offered rich and sophisticated problems before any acceleration through new content. Those who are not sufficiently fluent with earlier material should consolidate their understanding, including through additional practice, before moving on.
At St Augustine's CE Primary, we follow the 'Inspire Maths' approach to teaching mathematics.
What is Inspire Maths?
'Inspire Maths' is built on the proven approach to teaching mathematics in Singapore, recognised globally as one of the most impactful ways to teach and learn Maths.
'Inspire Maths' has been developed with leading UK educational experts and correlated to the new National Curriculum in England. It was selected by the Department for Education and NCETM for the national textbook research project with Maths Hubs
The programme follows a concrete – pictorial – abstract approach which ensures deep understanding of mathematical concepts during individual lessons and over time.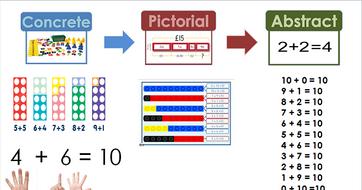 Carefully-designed spiral progression in the programme builds up knowledge over time, enabling all children to become confident mathematicians.
Inspire Maths guided sessions promote discussion and exploration, with a strong emphasis on mathematical language, speaking in full sentences, and reasoning (by children consistently being required to explain how they know).
Inspire Maths guided sessions include specific questions, which draw out children's understanding and identify and misconceptions immediately. Examples of these questions include:
How do you know?

What do you know?

What do you see?

What is the relationship between…?

Say it in a full sentence

What if…

Prove how you know

Talk to me in fractions/measure/ shape properties (correct Maths vocab)

Is there another way?

Use resources to explain your thinking

Tell me about…

Show me another way

If you know that, what else do you know?

What is the same and what is different?

Can you be more specific?

Does that always apply?

What makes you think that?

How does that fit in (with)?

What is happening?

What is likely to happen?
Inspire Maths is a high-quality textbook approach which is used from Y1- Y6 and helps every child to achieve Maths mastery. The pupil textbooks introduce concepts in a highly scaffolded way, helping children to make meaningful connections between mathematical ideas.
Each child records their learning in a practice book. The practice books reinforce the concepts that have been introduced and encourage extensive opportunities for independent practice. This builds fluency through frequent and varied practice leading towards mastery of concepts. Practice books include a variety of questions and word problems (including non-routine) for consolidation, and challenging questions
The Teacher's Guides provide a clear pathway to quickly identify gaps for immediate intervention and opportunities for further practice or enrichment.
How are children assessed in Inspire Maths?
Each child is assessed daily, through assessment for learning and teaching is tailored to meet the needs of the children. Early intervention, mixed ability pairing and targeted support provide the basis for ongoing assessment. In addition, Inspire Maths also provides;
Comprehensive reviews provide consolidation after every two or three units

Each child has an Inspire Assessment Book. These books support teachers to assess children's mastery of concepts and create a record of individual progress.
Inspire Maths provides a range of summative assessments that can be used after teaching 2-3 units, mid-term or termly.