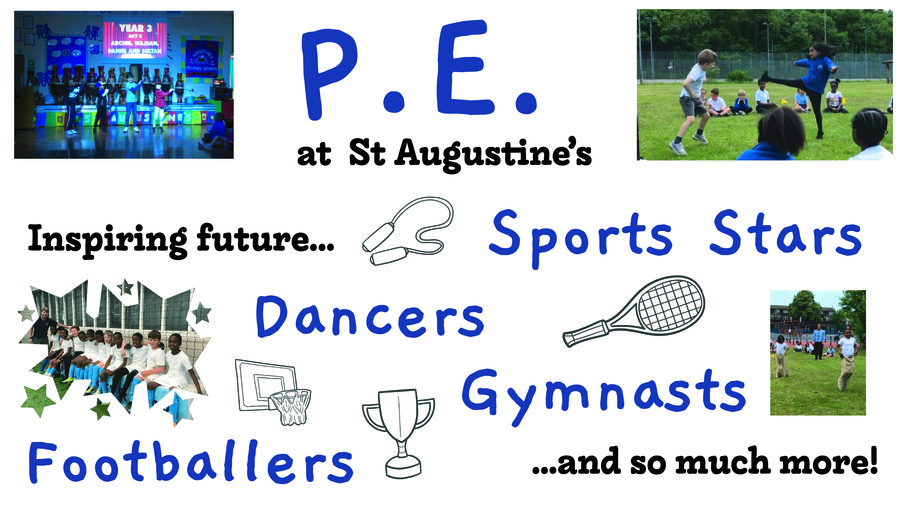 Our Vision (Intent)
"Together Everyone Achieves More'
At St-Augustine's Physical education is delivered to inspire all pupils to succeed and excel in competitive and recreational sport. It provides physical, mental, emotional, Cognitive and social dimensions of a child's development. Also, an emphasis on the contribution of physical activity to the promotion of individual and group well-being. We want to provide opportunities for pupils to become physically confident in a way which supports their health and fitness, as well as embed the values of fairness and respect. From this, we hope to nurture young minds into confident, articulate and well-rounded citizens where everyone feels valued, respected and included whilst improving mental health and developing social skills.
"Don't be afraid of being a beginner."
Implementation
Here is how we break down our curriculum into each key stage.
Annual insight to what went on during our 2022-23 academic year
This section will show you a few snippets of what went on during our 2022-23 academic year. This will show smiles and fun throughout what we did as classes and mixed groups. From attending sporting competitions to going to Ghyl Head learning the history of the Lake District and OOA activities.
What's been going on in P.E. and sport across school this year?
Fitness tracker Term 1
Our first week has been a great start to physical activity. Every term consists a fitness tracker that Mr Warran does to keep track on how the pupils fitness levels are doing throughout the year. We focus on the fundamentals of speed, strength, balance and hand eye coordination. This gives us a great insight into how the children may progress or need that extra help during PE sessions.
Tag rugby Term 1
Term 1 sport has officially started!
This term is all about hand-eye coordination, with a mix of spatial awareness and teamwork. We had year 4 getting familiar passing the egg in certain directions as in the game itself. Children find that they play any sport where the ball is passed in any direction, but telling them you have to pass backwards to move forwards was a head scratcher. Although, as the lesson went on we was able to develop from the basics and more game direct.
Year 4 Badminton Festival
We had a lovely experience with some of our year 4 children playing various games of badminton. The idea behind this event was to introduce a new activity to children and see who would like to take it up. The children had a fantastic time and all would be up for having another event. Big thank you to England Badminton and MCA for hosting the event.
Year 6 Tag Rugby Tournament
First event of October for our year 6 tag rugby team. The boy's and girl's absolutely did us proud. It was a very tough tournament and we only had 4 weeks to prepare, but we managed to win 2 games and score in every game at least once. More importantly, everyone gave 100% and shown great sportsmanship and shown honesty and fair play.
Year 3 MUFC tournament
This month some of our keen footballer players were enjoying their chance to play at The Cliff training ground. These boy's also went in year 2 and now a second time round they loved it even more. Children played against 5 other school's in 3v3 matches where they got to show off some of their skills they've learnt over the last year. Every child came away with a sweaty face and tired legs, but enjoyed every minute.
Year 6 football team
We had our first football game against a very good MCPA. We played a 9 a-side game on a very wide pitch, which gave a lot of space to cover. The boy's put in a massive effort and both teams matched each other. We came away with a very rewarding 1-1 result. A big well done to all team and looking forward to the next three fixtures in November.
MUFC The Cliff Tournament
Our year 6 football team had a great experience at the famous MUFC training ground The Cliff. The boy's not only had the chance to play football all morning, but to take charge and manage each other and learn the game from a coaching/management side. This allowed the boy's to see the game from a different perspective. Well done to the team and a wonderful hattrick scored by one of our strikers.
Year 5/6 Athletics tournament
This month we had some of our year 5 and 6 children taking part in a athletics tournament at Co-op North Academy. Children ran their hearts out and did some throwing ad jumping events in teams. Overall result was they came 3rd place which is fantastic and only 3 points off 2nd, so a big effort given to our team.
Year 5 MCFC Festival
This week we had our year 5 have their first taste of becoming a football team. We had a trip to the MCFC City Academy where the children we playing against other children. They were learning skills such as teamwork, communication, sportsmanship and individual football skills. The boy's won, drew and lost games but as we teach our children in sport, it is important to lose as it makes the wins even better and you learn from your mistakes.
WELL DONE YEAR 5!
We are proud to be given the gold award for our efforts in PE and sport during the 2021-22 academic year. We try to go above an beyond for our pupils, so they can have the best experience in PE and sport. We hope to do even more this new academic year. Keep a look out for the updated news letter for tournaments and results.
2021-22 PE and extra curricular activities
Have a look below at some of the activities we got up to last year!
BIKE RIGHT
Here we have our year 6's learning the cycling safety when riding on the roads.
Debdale Outdoor Center
As it is the year of OAA, we thought to treat some of our wonderful year 5/6 students. We took them on a trip to Debdale Outdoor Centre, we got involved in teamwork puzzle games and wet activities in the lake. Take a look at the pictures and videos, I'm sure you'll giggle.
Ghyll Head residential
We had a fantastic and busy 5 day's with our very energetic year 6 on our residential to Lake Windermere. See below what some of our children got up to.