Interventions
"Reading makes me feel excited because I don't know what is going to happen next in the story."
Reading Recovery
Reading Recovery is a reading intervention programme designed for children who are struggling to make progress in reading after their first year of school. It is a series of intensive lessons with a specially trained reading teacher.
Children in Reading Recovery have individual lessons for 30 minutes every day. The lesson series lasts for up to 20 weeks. The programme is different for every child, starting from what the child knows and what he/she needs to learn next. The focus of each lesson is to understand messages in reading and construct messages in writing.
The lesson series finishes when the child is able to read and write without help, at an appropriate level for their age.
At St Augustine's we have a specially trained Reading Recovery teacher.
What a Reading Recovery lesson involves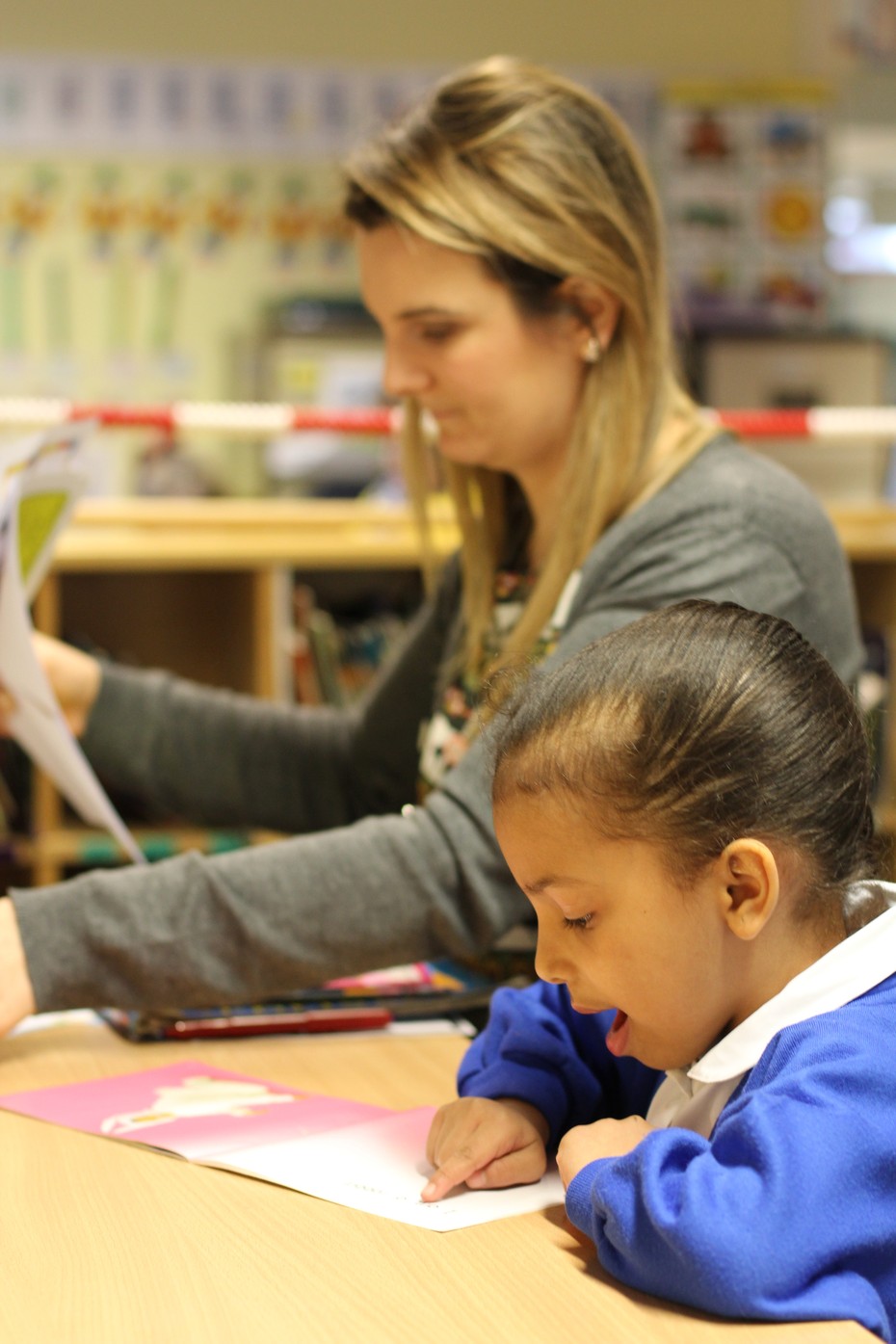 "My Reading Recovery teacher taught me that reading is fun and not difficult, I love reading lots of different books, my favourite are funny books".
In your child's daily lesson he/she will:
read a few specially chosen books
learn how to use letters and words
write a short story
make a puzzle from their story to bring home
choose a book to bring home
Parents are always invited into school to watch a lesson and chat to the Reading Recovery teacher about their child's needs and experiences.
We have recently been recognised for our commitment to Reading recovery and been awarded with the prestigious 'School of the Year' award, organised by the International Literacy Centre at the Institute of Education in London.
Our achievements in delivering the programme were recognised at an awards ceremony in London on 7 July 2017, where we were recognised as a school who have made an outstanding contribution to children's literacy through Reading Recovery.
Phonics
Letters and Sounds is a phonics resource published by the Department for Education and Skills in 2007. It aims to build children's speaking and listening skills in their own right as well as to prepare children for learning to read by developing their phonic knowledge and skills. It sets out a detailed and systematic programme for teaching phonic skills for children starting by the age of five, with the aim of them becoming fluent readers by age seven.
How you can help with your child's reading
Show an interest in your child's reading, and encourage him/her to read the books he/she brings home each day. Spending a few minutes each day reading with your child will make a big difference! This should be a shared, happy time together. It is not a test, and it shouldn't feel like hard work for your child. If they get stuck on a word say 'try to work it out', silently count to three and if they haven't got the word by then, just tell them and keep the story reading going smoothly.
Aim to spend 10 minutes a day, but if this is too long for your child, try five minutes. Don't make it a chore.
Please make sure your child is in school every day, so that he/she does not miss any Reading Recovery lessons. Children progress faster if they attend school every day because they are able to practise the skills they have learnt and build their confidence from lesson to lesson.
Fischer Family Trust
Fischer Family Trust Wave 3 (FFT Wave 3) is an early intervention for children who have difficulties learning to read and write. FFt is based on the pedagogy and practice of Reading Recovery.
Aims
The aim with FFT Wave 3 is to accelerate learning so that each child makes enough progress in reading and writing in order to access a group intervention and/or continue to progress through whole class /group teaching. At Year 1 the gap between a targeted child and the rest of the class will be relatively small, so it is easier to use an effective intervention to accelerate their learning in order to close the gap with their peers. We use FFT Wave 3 with children from all year groups and texts we use are adapted for different maturity levels.
The programme in outline
All of our TAs are trained to deliver FFT

They work one-to-one with identified children
Each session lasts for 15-20 minutes daily for 10-20 weeks

FFT follows a 2-day rolling programme (reading one day, writing the next)
Structure of the FFT Wave 3 programme
Each child's programme is based on their initial assessment. It helps to develop skills and knowledge at word, sentence and text level. Letter and Word work is always immediately applied to reading or writing continuous text. The aim is for the child to develop a range of independent reading and writing strategies.
Day 1 Reading Day
The child:
Re-reads a familiar book (4-5 mins)

Carries out 3 fast letter/word work activities (3 mins)

Reads a new book following a book introduction (6-8 mins)

Reconstructs a cut-up sentence taken from the book (2 mins)

Learns a new word from the book (2 mins)
Day 2 Writing Day
The child:
Re-reads yesterday's book (4-5 mins) - weekly running record

Revises word(s) learnt in the previous sessions (2 mins)

Composes and writes a sentence based on a picture or stimulus from the book (8-9 mins)

Learns a spelling from the writing (2 mins)

Reconstructs a cut-up sentence from the writing (2 mins)